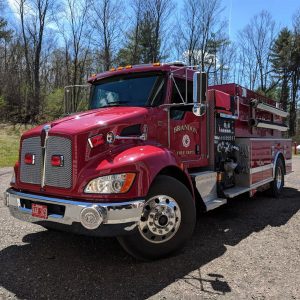 The Brandon Fire Department's mission is to save lives and protect property in order to provide a quality of life consistent with the requirements of the residents of the Town of Brandon.
To ensure that the Brandon Fire Department can perform its mission, it is responsible for the preparation of officers, firefighters and equipment so that together they are ready to provide cost effective resolutions to emergencies that threaten or will threaten life and property in our community. The Brandon Fire Department will be the lead agency for fire suppression, fire prevention, vehicle rescue, control of hazardous materials emergencies and rescue of trapped or injured persons.
The Brandon Fire Department will take a subordinate role in the rescue of lost persons, evacuation or relocation of civilians, and response to natural or man-made disasters.
Fire Chief
Thomas Kilpeck
Assistant Chief
Roland Euber
Members of the Dunmore Hose Company
President
Jordan Martin
Vice President
Bradley Danforth
Secretary
Tracey Murray
Treasurer
Tracey Murray
Captain
Jordan Martin
Captain
Jesse Bilodeau
Lieutenant
Brian Kilpeck
Lieutenant
Cody Taylor
Kenneth Backus
Harry E Hunt
Jason Martin
Adam Duby
Garrett Trask
Scott Bertrand
Harry L Hunt
Mark Muth
Brent Young
Steven Bilodeau
Jeff Cohen
Peter Smith
Brent Scarborough
Ethan West
Jake Bertrand
Joselynn Wright -JR FF